Dental crowns are one of the most popular and commonly applied dental restorations available, with patients having relied on their ability to repair smiles for decades. Thanks to constantly evolving technologies, techniques, and materials utilized in the design, crafting, and placing of these restorations, they are more natural looking, feeling, and longer lasting than ever. When you visit Raynald Michel, DDS in Fort Lauderdale, Florida, we are thrilled to offer quality dental crowns to renew your oral health.
What Are Dental Crowns?
Dental crowns, also called caps, are highly customizable restorations crafted to encapsulate a tooth that is damaged, weakened, or that may have some cosmetic imperfection.
Dr. Michel places crowns over teeth that need to be restored due to extensive decay, chips or fractures, root canals, and more. Crowns are also a great cosmetic dental solution to conceal teeth that are discolored, misshapen, or suffer from other cosmetic imperfections.
What Should You Expect When Getting a Dental Crown
After examining your teeth, during which it will be determined if a dental crown is suitable, necessary dental treatment will be performed to prepare your tooth to receive the crown. For instance, if there is decay in the tooth, that would need to be removed before capping your tooth.
We will then take digital impressions of your prepared tooth so that your crown will fit snugly. A precise fit is necessary to avoid any bite problems once the crown is placed. Your impression will be sent to a laboratory where your crown will be manufactured from porcelain. In the meantime, you will be fit with a temporary crown that you will wear while we wait for your permanent crown to arrive. This can take two to three weeks, after which you will return to have your permanent crown placed.
Real Patients, Real Results
Before and After Transformations by Raynald Michel, DDS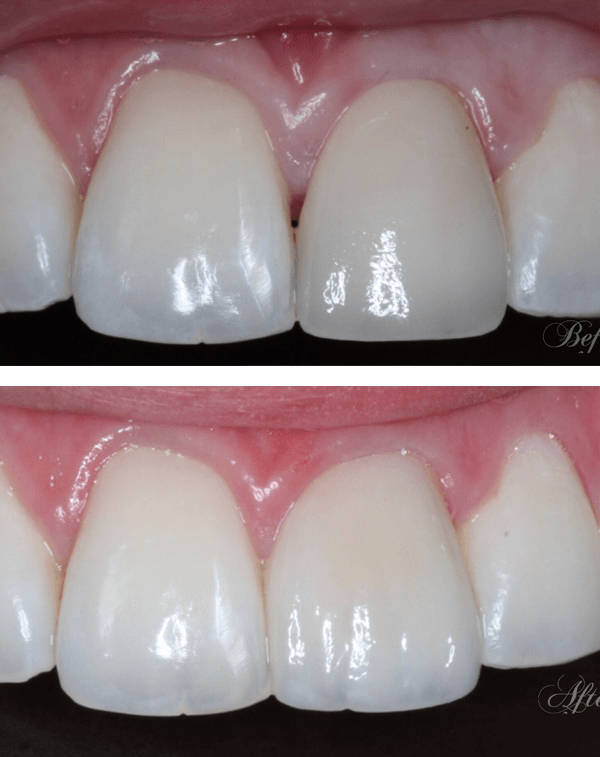 Porcelain Crown Replacement with Custom Staining – We helped this patient improve their smile with a porcelain crown replacement. Custom staining/shade was done on the crown in order to match the neighboring tooth and achieve the best aesthetic results.
Who Needs a Dental Crown?
You may need a dental crown if:
You have a tooth that has taken significant damage due to either decay or some physical injury
You are restoring an existing dental implant
Your current dental filling can no longer protect your natural tooth
You've undergone a root canal, and the tooth needs to be covered
You have a weakened tooth that requires protection to prevent fracturing
You have a tooth with some form of cosmetic imperfection which can be concealed by a crown
To schedule an appointment with Dr. Michel, please call our Fort Lauderdale, FL office at (954) 573-2500.