Cosmetic Dentist in Fort Lauderdale, FL
Many patients schedule regular cleanings with their Fort Lauderdale, FL, dentist to maintain their oral health; however, many people may not realize that they can do so much more through cosmetic dentistry.
What Is Cosmetic Dentistry?
General dentistry is what many of us go to the dentist for; this includes dental cleanings and checkups. Cosmetic dentistry focuses on improving your appearance and is an investment in your long-term beauty and tooth function. Your teeth may be perfectly healthy and clean, but if you have crooked, misshapen, gapped, or otherwise imperfect teeth—you can fix them permanently to reflect the smile you desire. At Raynald Michel, DDS, we can provide cosmetic restorations that improve the way you look.
We take pride in providing cosmetic dental solutions that enhance your smile, especially if you have teeth that are stained, discolored, misshapen, chipped, gapped, or overcrowded.
Personalized Cosmetic Treatments
Our cosmetic dental treatments range from dental procedures that are instantaneous and non-invasive to comprehensive smile goals that perfect dental imperfections in smiles that suffer from chipped, missing, broken, discolored, or misshapen teeth. No matter what it is you'd like to change, we'll find the solution that perfectly fits your needs:
Porcelain Veneers
A veneer is an extremely thin porcelain shield that Dr. Michel bonds to the front-facing surface of your tooth. Veneers appear incredibly natural that they are undetectable to anyone looking at your smile. The process takes a few visits in our Fort Lauderdale, FL dental office and is a permanent investment to your beauty.
Professional Teeth Whitening in Fort Lauderdale
Professional teeth whitening is a standard and popular dental procedure that is quick and non-invasive. You can melt away years from your appearance in just one dental visit! We offer in-office teeth whitening or at-home whitening kits for your convenience. In one visit to our Fort Lauderdale, FL, dental office, we will make impressions of your teeth to create customized whitening trays for your use. 
Tooth-Colored Fillings
Patients who come to our dental office for tooth repairs can enjoy the benefits of tooth-colored fillings that look so natural no one will ever notice your fillings! We understand that many people want to display a beautiful, white smile without any signs of dental work. Dr. Michel can utilize tooth-colored fillings to make your teeth look and feel natural.
Dental Crowns and Bridges
Dental crowns can be used to restore broken or missing teeth, but it can also be used to improve healthy teeth. A dental crown is a cap that surrounds your entire tooth so it can be used to hide imperfect teeth. Dental crowns can conceal a dark stained, misshapen, crooked, or gapped tooth. Dental bridges are a perfect solution to restore one or more missing teeth by using adjacent nearby teeth to help create a bridge.
Real Patients, Real Results
Before and After Transformations by Raynald Michel, DDS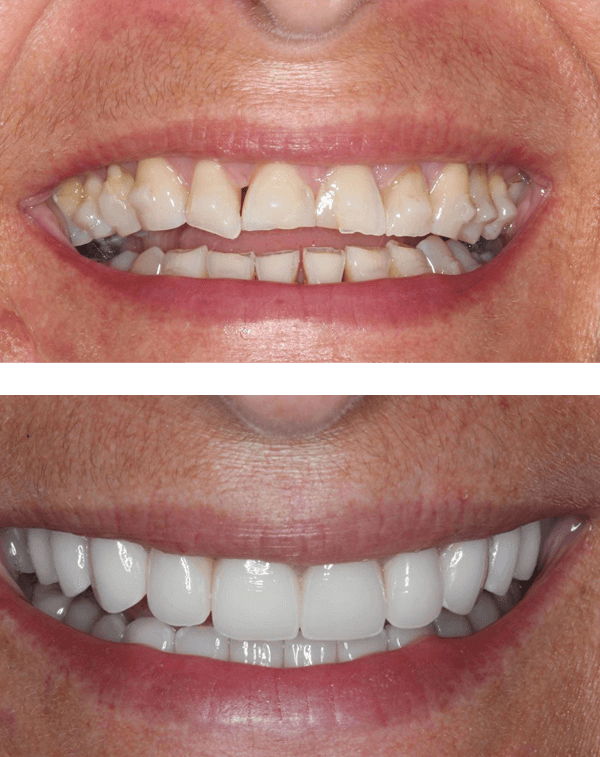 Porcelain Inlays and Onlays
Porcelain inlay/onlays are a good option for replacing large cavities that have unsightly metal fillings. Dr. Michel customizes the inlay or onlay to your tooth and bonds inside the tooth. Not only do porcelain inlay and onlays look and feel entirely natural, but they also prevent further decay and provide structural stability and support. Fort Lauderdale, FL patients who opt for this dental procedure can enjoy a natural look that functions like a natural tooth, are stain-resistant, and can last for a long time.
Improve Your Smile Permanently in the 33306 Area!
At Raynald Michel DDS, we help you maintain perfect oral health as well as offer smile makeovers to give you an ideal look. Strong, healthy-looking teeth are a sign of vigor, youth, and beauty. Whether you choose a simple procedure to provide yourself with a quick makeover or a more comprehensive plan to improve more significant issues, we are ready to consult with you. Please call our Fort Lauderdale, FL, dental office in the 33306 area to schedule your free cosmetic dentistry consultation!